Our accommodations are at your disposal to allow you spend the best possible holiday in Brittany in Ambon. We have studied our rental offers and adapted them to meet your needs. Thus, we have mobilhomes ranging from 2 rooms to 3 rooms, warm and comfortable, as well as modern and spacious chalets.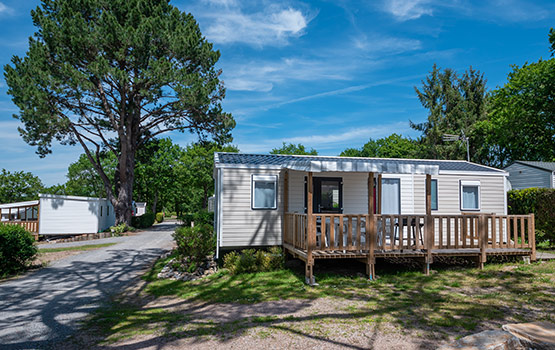 Bungalows are of different capacities which can accomodate from 2 to 8 people. They are all equipped with a kitchen with crockery, a living room, a terrace and barbecue, mattresses, pillows and blankets, a bathroom with shower and toilets. In 2018, we offer a "Tribe Offer" to accommodate up to 12 people and enjoy your camping holiday in the Gulf of Morbihan between family and friends, allowing you privacy in your own mobile home whilst sharing a large terrace with the rest of your group to spend time all together.

You can search our website to find the accommodation that suits you. If you have any questions, do not hesitate to send us an email or call us. Online booking is secure and simple. Do not hesitate to book now to enjoy your holidays in Brittany.